Commercial And Industrial Programs
Commercial-Industrial Solutions Programs
This program is designed to encourage our commercial and industrial customers to implement energy efficiency improvements that will reduce natural gas consumption.
The program will provide cash and non-cash incentives for a variety of direct install, prescriptive, or custom natural gas energy efficiency projects.
The direct-install measures are most appropriate for restaurants, food service organizations, and small-businesses. Proposed direct install measures may include but are not limited to:
Pre-rinse spray valves
Aerators
Weather Stripping
Steam Traps
Showerheads
Prescriptive measures offer a standard menu of qualifying energy savings opportunities. Proposed measures include but are not limited to:
ENERGY STAR Combination Oven
ENERGY STAR Rotating Rack Oven
ENERGY STAR Convection Oven
ENERGY STAR Conveyor Oven
ENERGY STAR Fryer
Learn more about energy savings for restaurants by reading our restaurant factsheet. To particiapte in the program, download the rebate form below.
To qualify for custom incentives under the Commercial/Industrial Solutions Program, program participants will be required to follow an established documentation, reporting, and inspection procedure. Actual incentive dollars the participant will receive through the program will be calculated from approved pre- and post-inspections by the engineering team. The Commercial/Industrial Solutions program will offer custom incentives for measures in the following categories:
To take advantage of this opportunity email Corey McAnally at corey.mcanally@clearesult.com or call 479-316-4523.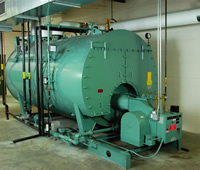 This program is designed to encourage the installation of high efficiency natural gas boilers and associated equipment. AOG will provide a financial incentive in the form of a rebate to customers who purchase and install qualifying equipment.
This program is available to all AOG commercial and industrial heating and water heating customers in Arkansas for new construction and existing businesses where natural gas is their primary fuel.
Equipment
Incentive Amount
Inventive Details
Eligible Equipment Description
90 - 93.9% Efficient Boiler
$1400 per MMBtu/Hr
Hot Water Boilers
Commercial comfort heating boilers between 100,000 BTU and 4 MMBTU*
>= 94% Efficient Boiler
$2000 per MMBtu/Hr
Burner Replacement
$1000 per MMBtu/Hr
Up to 25% of the equipment cost and burner installation
Fully modulating or 6-step modulation burners only. Not eligible for new boilers
Boiler Reset Controls
$150 per system
Not to exceed the equipment cost
Automatically controls the boiler temperature based on the outside air temperature
Boiler Cut Out Controls
$150 per system
Not to exceed the equipment cost
Automatically turns off the boiler when the outside air temperature reaches a preset temperature
Boiler Vent Damper
$400 per system
Not to exceed the equipment cost
Automatically shuts off the flue pipe when the burners are not operating
For More Information, email Corey McAnally at corey.mcanally@clearesult.com or call 479-316-4523.
*Hot water boilers must be AHRI Certified in order to qualify. Incentives are available for boilers larger than 4 MMBtu, steam boilers, and boilers used for domestic hot water and process applications through the C&I Solutions program. Contact Bill Dollar for more information.
All rebates are subject to Program Guidelines. Rebate qualifications and amounts are subject to change and rebate funds are limited. Rebates may not exceed 25% of the project cost. AOG Rebate Programs may be cancelled or changed at any time.