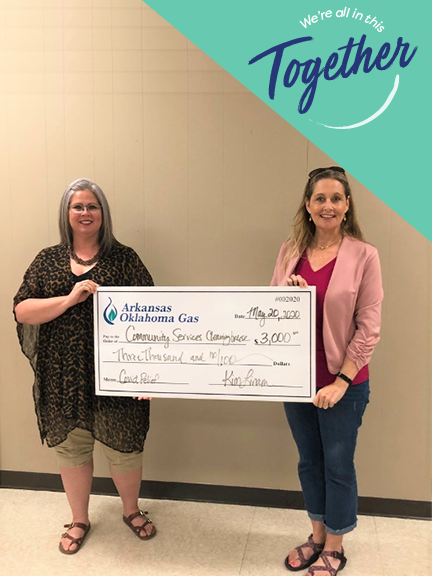 Arkansas Oklahoma Gas Gives $3,000 to Community Services Clearinghouse
Donation to Assist with Food Assistance in the River Valley
May 22, 2020
Fort Smith, Arkansas – Arkansas Oklahoma Gas Corporation (AOG) is contributing $3,000 to Community Services Clearinghouse. This fund aligns with the company's recent announcement to focus on relief efforts for those who have suffered from the devastating financial, educational and health impacts of the coronavirus pandemic. These funds will support the Community Services Clearinghouse with providing food assistance needs in five counties in Arkansas and two in Oklahoma during this health pandemic.
"We have continued to serve clients through this health emergency. Our caseworkers have worked very hard adjusting to phone interviews and adapting to new ways to meet the needs of our community. In addition, we serve referrals from Reynolds Cancer Support House, local hospices, public schools, and elder services agencies," said, Tami Kuhus, Executive Director, Community Services Clearinghouse. "Thanks to AOG's support, our agency can meet the increase food assistance demand brought on amid the Covid-19 pandemic."
"AOG is proud to assist with this food assistance relief effort," said Kim Linam, Chief Administrative Officer, Arkansas Oklahoma Gas. "We understand that we are all in this together. The Community Services Clearinghouse plays a critical role in the Arkansas/Oklahoma area providing nutritious food to struggling families, and seniors who might otherwise go without during this unprecedented health crisis. Providing these resources is one way that we can support our customers and community members who are immediately impacted by the COVID-19 crisis."
The company has committed twenty thousand dollars overall to COVID-19 relief efforts in Arkansas/Oklahoma. In addition to donating to the Community Services Clearinghouse, the company is also contributing to the Area Agency on Aging of Western Arkansas, Disabled American Veterans Fort Smith Chapter, The Salvation Army and the United Way of the Fort Smith Area COVID Response Fund.
On top of providing financial support to nonprofit organizations and supplying Wi-Fi hotspots to a variety of area school districts throughout its service territories. AOG has also suspended natural gas disconnections for nonpayment and is working with customers who may need payment assistance, arrangements, or extensions.